To live a more sustainable and environmentally friendly life, we first need to educate ourselves on what changes we can make and which of our habits are the worst from an environmental perspective. But a lot of people don't have the time to spend hours researching these things and need short, fast and easy guides on how to make better choices. Parents especially have less time to change to better habits that will be part of making the future for their children better.
So here is a guide on how you can shop what you need more sustainably.
---
Second Hand shopping online
Location: Not only does online thrifting allow more people to shop sustainably due to lack of time, but also bringing the option to those who do not have physical second hand-stores close to where they live.
Please do keep in mind to try to shop from within your own country, or as close to you as possible to keep the emissions for transportation down.
Search engine: A lot of the apps and websites where you can buy pre-loved items make it easier to find specific things you're looking for, compared to wandering around in the physical stores trying to find x, y, z. Through the search option, you can search for specific brands, items and sizes. Especially the part of being able to search for sizes makes it easier and more inclusive for people with larger sizes, as most of what is sold in vintage and thrift shops are sizes S-L.
Notification options: If you can't find what you're looking for, you can in some apps and websites choose to get notifications if an item is added that match your search word. This saves you time so that you don't have to check for it every single day, but can rely on the notification to let you know.
Follow people with similar taste, size and hobbies: In some apps, like TISE and DEPOP, you can follow specific people making items put out for sale by those people being displayed for you. That way you can create almost like an app that shows you the items of your interests, size and style.
---
Sustainable and ethical stores
While shopping for items that are already on this earth, to lessen the need fo using new resources, buying pre-owned or upcycled items is not for everyone. Perhaps you are looking for a specific kind of item and you just can't find it on any of the online thrifting options.
There are stores who've made it easy for you to save you time from researching for all brands who use sustainably sourced materials and who used ethical practices for their workers. These stores, which you can find both online and in some cities, have done all of that work for you as they only stock items from brands who make the cut.
As there are many readers here from Sweden, I'll mention a couple of these physical store options for you here. That way you can try the clothes on before purchasing. These all do have online shops as well for those who do not live in any of those cities.
Stockholm has Ecosphere and Adisgladis for example, and in Gothenburg you have Thrive.
How to find ethical and sustainable brands
You can go to some of these stores who sell only from ethical and sustainable brands, look at their list of what brands they are selling and go onto the websites of those specific brands and see all of their items, as the retailers with many brand only chose a few of the clothings from each brand.
Check out the website and app GOOD ON YOU where they amongst other things, research on different brands and rate them on 3 points – Environmental Impact, Labour Conditions and Animal Welfare. For brands that have been rated badly, they often offer "Good Swap" by showing brands with similar style of clothing but by brands who've been rated good.
Follow ethical fashion-gurus on social media. They often mention brands that are good, and call out Greenwashing when deserved. Some people I recommend following for ethical fashion is:
Aja Barber: Instagram – Patreon
Verena Erin/My Green Closet: Instagram – Youtube
Kristen Leo: Instagram – Youtube
Venetia Falconer: Instagram Youtube
---
For more posts about Fast Fashion check these out:
PLASTIC CLOTHING – Pros, cons and how to deal with micro plastic pollution
CLOTHING: Which materials are the best and worst? – A sustainable fashion material guide
NOT BUYING NEW CLOTHES? Here's what you can do instead
HOW TO MAKE YOUR CLOTHES LAST LONGER
---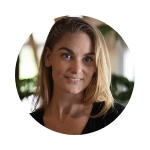 This post was written by our blogger Evelina Utterdahl. You can read more about her here