Whether it's for financial or environmental reasons, you may consider doing a period of not purchasing any new stuff, or at least new clothes. But how do you keep your love or need for fashion if you don't shop anymore?
There are actually several different option, so here's a guide for you, along with some tips of apps and website where you can thrift, swap or even get things for free.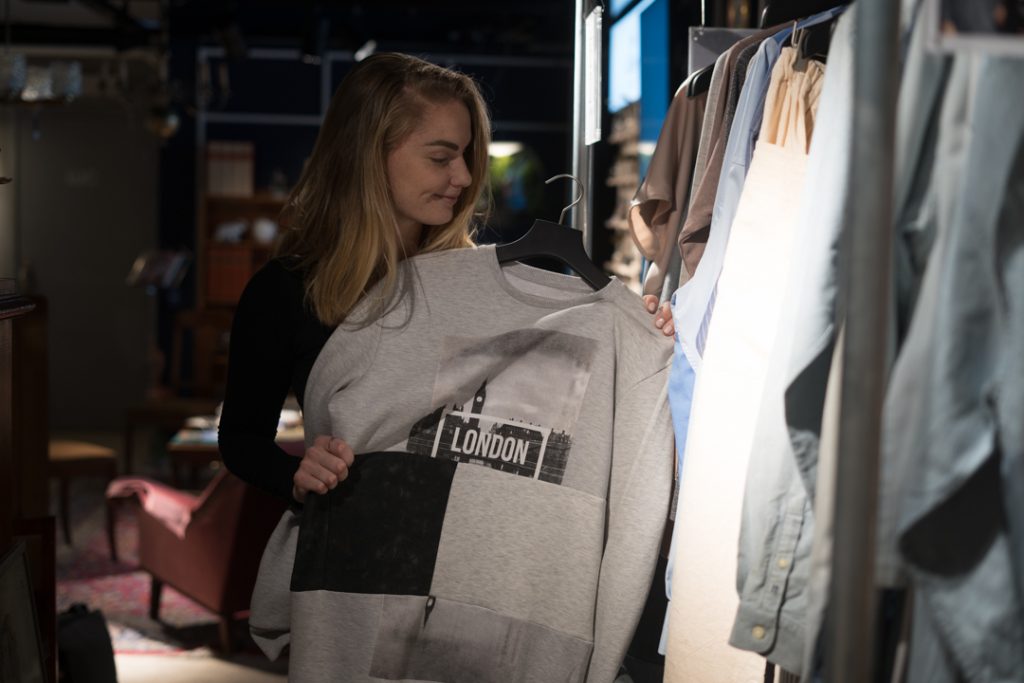 SECOND HAND
Buying second hand is a great option to get (to you) new clothes considering the situation we're in where the business models of fashion is to produce an abundance in clothing, using precious resources, land and energy.
It's a lot better to use what we already have than to use new resources.

As second hand shopping is become more popular, I'm hoping that people will shop their clothes with the second hand value in mind. Quality will keep its value for a long time, while cheap and poor quality fast fashion items will have little to no value after a short time of being used.

In a world where we every day get marketing in our faces of what is trendy and not, avoiding trends and looking to thrift stores makes it easier to find your own personal style.

The downside to shopping second hand online is that you can't try things on before buying it. But there are many pros about thrifting online, like being able to search for specific items and sizes, saving time and for many people – stress, and of course not everyone have many second hand shops near them. In some website or apps you can even set to get a reminder if a specific item comes up for sale.
But please do keep in mind the shipping when purchasing online. While thrifting is a sustainable way to buy clothing, if you have them shipped from far away the carbon footprint of the transportation could become quite large. So try to buy second hand as locally as possible.

I know it can take some time and getting used to the idea of buying pre-used clothes. Personally I used to get very stressed by being in thrift shops as they were often disorganised and very busy. When I was younger I used to think it was unhygienic.But can we just take a moment to address that a lot of the people who think it's not fresh to buy used clothes seem to have no issues staying in hotels, sleeping in sheets slept in by hundreds of people before them, or eating at restaurants with glasses and cutlery also been used by hundreds, if not thousands of people. Clothes can be washed too, right!?
Here are some links to where you can thrift online. These are just a few options, there are so many more and as thrifting is becoming more popular, even more are popping up. Use your computer or phone to find options near you, both for physical and online stores.
There's a separate list for swedish apps and websites, as we have a majority of Swedish readers at the moment.
ONLINE:
Facebook Market
Facebook groups
Depop (app only)
Vestiaire Collective

Swedish:
Tise (app only)
SWAP
One person's trash is another one's treasure

Have some clothes in your wardrobe that you're not using? Perhaps they don't fit anymore, your style has changed or you've grown tired of it. Well, most people do and just imagine what treasures are out there not being used and appreciated.

Want new stuff but don't want to spend money?

Let me walk you through the concept of a clothing swap.

Either organised by a company, organisation or simply between friends – people bring clothes they no longer enjoy or can use and then you can swap with each other.

A strategy used by Stories behind things of which I've been to a clothing swap event, you leave your things and get tokens for them. Depending on what kind of item, quality and brand you get different amount of tokens. This way there will be no loss in bringing quality items, as you could get either another high quality item or several more simple items. As long as they're whole and in good condition you can leave them for tokens.
The items then have a "price" of x tokens, depending on the qualities mentioned above.

Do some online searching to see if there are any clothing swap events or organisers near you, or you can check out an app called Bunz which works in a similar way. It's based on users actually using it, so in some places there's no one who's gotten started yet but if you start by putting your things in and then encourage others in your area to join too, you can swap that way.

Or why not create an event with some friend who have similar sizes and do it less formal over dinner or coffee.
ONLINE: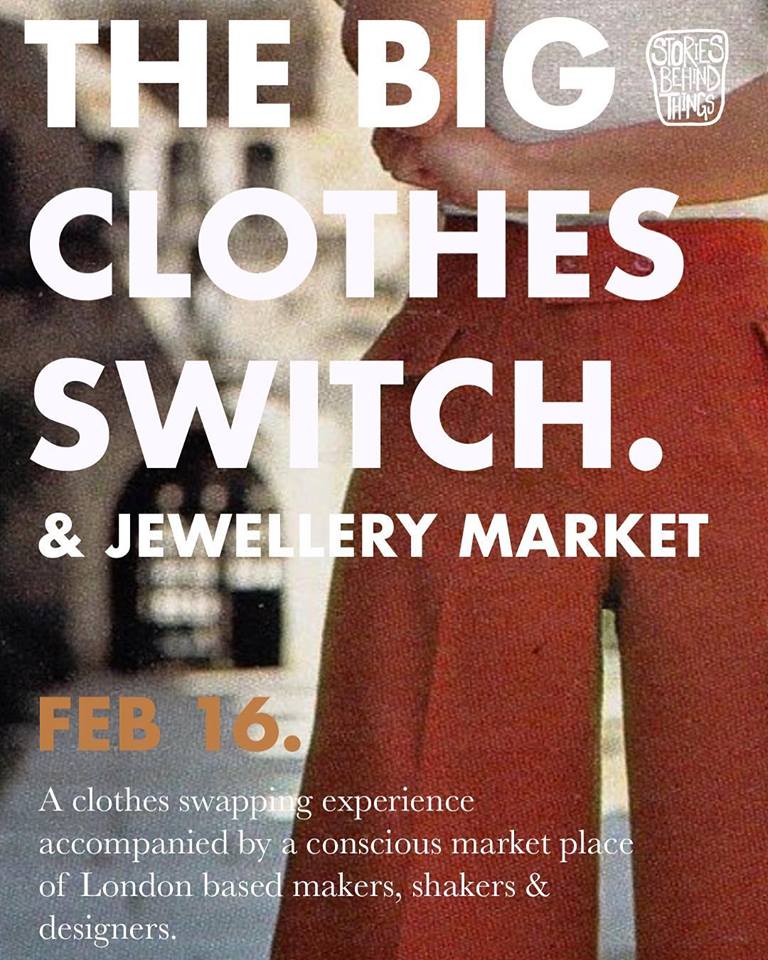 GET FOR FREE
Another way to get things for free is to simply ask your friends and family if they have anything they're not using and ask if you can look through it and pick some stuff, either to keep or simply to borrow from them.
There's actually people giving things away for free somtimes. Check to see if there's a local facebook group of people giving things they no longer want for free, or on market place in your area as some people put things up there too.
Especially after the hit series Marie Kondo where she shows how to declutter and get rid of stuff, more people than ever are getting rid of their belongings so get more space (physically and mentally) in their home.
ONLINE:
Facebook market
Facebook groups

RENT
"Sharing economy is a term for a way of distributing goods and services, a way that differs from the traditional model of corporations hiring employees and selling products to consumers. In the sharing economy, individuals are said to rent or "share" things like their cars, homes and personal time to other individuals in a peer-to-peer fashion." – Wikipedia
As our resources and the use of them are becoming more crucial, the idea of a shared economy where co-owning an renting rather than everyone owning everything themselves is becoming increasingly popular.
The time for buying an entirely new outfit for a single event became more accessible and popular with the growth of fast fashion brands offering the latest fashion for an unreasonably low price needs to end. You can read more about what fast fashion is here and why it is so important that that business model changes.
If you ever need to wear something once for a specific event, like a job interview or a wedding, or if you just really like to dress in different items often, clothing rental is just the thing for you.
Clothing rental is no longer just about renting tuxedos or fancy maid of honour dresses. It is becoming more common with rental companies offering more day to day clothing, an instead of just for one specific event, to subscribe and use the rental as more of a clothing library where you can borrow new items every month.
Perhaps you find something you really like and want to invest in, but want to try it out in person before making the commitment to buy an item that is rather expensive (as the quality and working conditions most likely are much better than the fast fashion options most people wear these days)
Here are some options to clothing rental companies in the UK, US, Australia and Sweden. But there are many more options out there so search online to find what options there are near you. Remember that it is not sustainable to keep shipping clothes for swaping or thrifting across the world, so try to find an option as locally as possible.
ONLINE:
Hirestreet (UK)
HURR Collective (UK)
Gwynnie Bee (US)
Rent the runway (US)
Armoire (US)
Her Wardrobe (AUS)
Glam Corner (AUS)

Swedish:
REPAIR
Do you too have a pile of clothing that you love but need some kind of repairing or alterations?
If the mending it beyond your personal skills, you can either ask someone you know who does, or you can support your local tailors.
The same goes for altering clothing. Maybe you have some items you love but they need to be shortened, sewn in or in other ways be modified. Try doing it yourself or as mentioned above – take it to a tailor to make it fit you as perfect as possible with the help of a professional.
Have a stain you can't get rid of? Hide it with a pin, pad or do something called visible mending – an upcoming trend to make the mending of your clothes obvious but do it in a creative way. For inspiration see the hashtag on Instagram or Pinterest.
In Sweden, there's a repair company called Repamera where you can send your clothes for mending that requires the skills of a professional, they fix it and send it back to you. There might be a similar option in your town or country, so that could be worth checking out if you don't have a physical tailor close to where you live.
REMAKE or UPCYCLE – alter clothes or fabrics to new items. There are also plenty of brands and people creating new clothes from fabric scraps or other unused old fabrics. Search online to find what options there are near you!
Here's a pyrmaid to keep in mind when wanting or needing something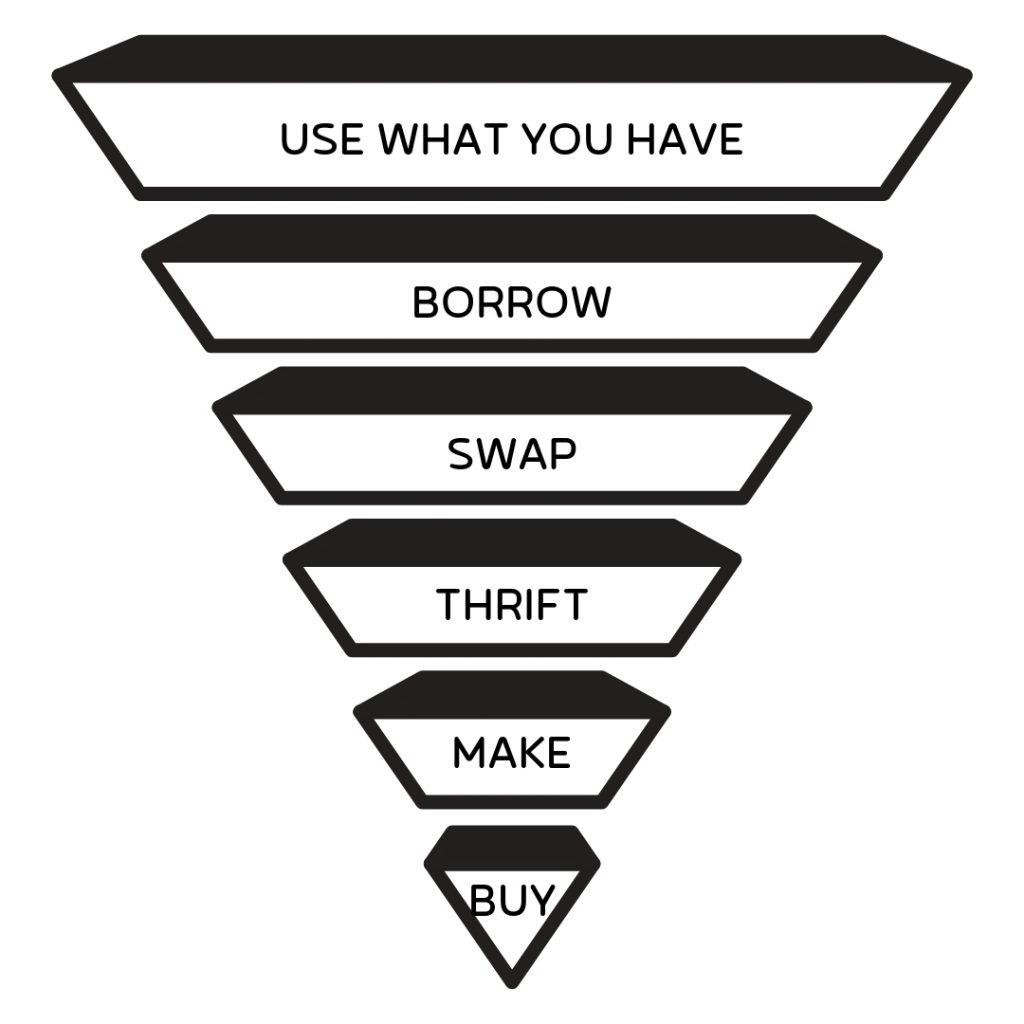 ---
For more posts about Fast Fashion check these out:
PLASTIC CLOTHING – Pros, cons and how to deal with micro plastic pollution
CLOTHING: Which materials are the best and worst? – A sustainable fashion material guide
HOW TO MAKE YOUR CLOTHES LAST LONGER
HOW TO SHOP SUSTAINABLY – When you are living a very busy life
---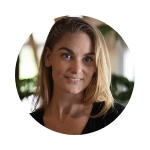 This post was written by our blogger Evelina Utterdahl. You can read more about her here