The fashion industry is a cornerstone of our society, with new trends and styles coming into our closets every year. But what are the long-term impacts of our shopping sprees and wardrobe updates?
The clothing industry is a major contributor to climate change and pollution, particularly in the fast-fashion sector. The global fashion industry releases an estimated 1.2 billion tonnes of carbon dioxide annually, a number that is expected to increase as our consumption of ready-made clothes increases.
The environmental impacts of clothes are rooted in every step of the industry, from production to wear to disposal. But can our t-shirts really affect the planet to such a great extent? Let's take a look!
The Carbon Footprint of Our Clothes
When considering our carbon footprints, many of us overlook the impacts that our clothes have. Our small purchases add up quickly though, and with the global fashion industry reaching a value of $2.5 trillion, our clothes have an enormous impact!
The majority of fast-fashion is produced in developing nations, in factories that are severely under-regulated in their environmental impacts, and that are often coal-powered. Moreover, approximately 49% of fast-fashion is produced with synthetic material like polyester and spandex, which come from oils and fossil fuels.
Even clothes that are made of natural material (wool, cotton, etc.) have major carbon footprints. Cotton production alone uses 3.3 million acres of land and 16 billion cubic meters of water every year. The land used for material production is also a major contributor to global deforestation, with large swaths of rainforests cleared to make room for leather, cotton, and wool production.
Pollution
Along with the severe impacts on climate change, the clothing industry also plays a key role in global pollution. With such a significant portion of our wardrobes made from synthetic material, our clothes have a major impact on the global plastic crisis.
At first glance, the plastic in our clothing may not seem like a major issue, but studies suggest that 35% of all microplastics in the world originate from our clothes. These microplastics break down and enter waterways when we wash our clothes, and fill the oceans with irreversible plastic pollution. This plastic even enters our food!
In addition to plastic pollution, our clothes make up a significant portion of landfill waste. Only about 10% of our clothes are fully recycled, leaving the rest to fill up landfills and break down into microplastic pollution. Our unwanted clothes become harmful chemicals that enter our water and atmosphere, and further contribute to climate change.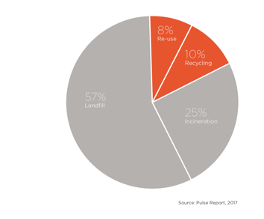 How Can We Reduce Our Impact?
Clothing is obviously an essential part of our daily lives, so how do we reduce the environmental impacts of our wardrobe?
A key part of reducing our carbon footprint is an awareness of our consumption practices. Using tools like the Fashion Footprint Calculator can help us keep track of our personal impacts and help us stay up-to-date on sustainability practices, including:
– Identifying sustainable brands
– Avoiding excessively washing our clothes
– Best practices of clothing disposal
One of the best ways we can reduce our impact is by avoiding the unsustainable fast-fashion that makes up so much of the clothing industry, and instead opting for second-hand or sustainably-made clothes. When shopping second-hand isn't an option, investing in good-quality clothes that don't easily break down or need replacement can also significantly reduce our overall impact.
Look out for brands that are making moves in the right direction. For example, companies looking to improve their footprints can utilize quality testing to ensure long lasting, sustainable practices. These quality controls help reduce fabric and textile waste, and assure good-quality materials in every step of production.
By staying aware of our fashion's footprint, we can keep our clothing choices sustainable and green.