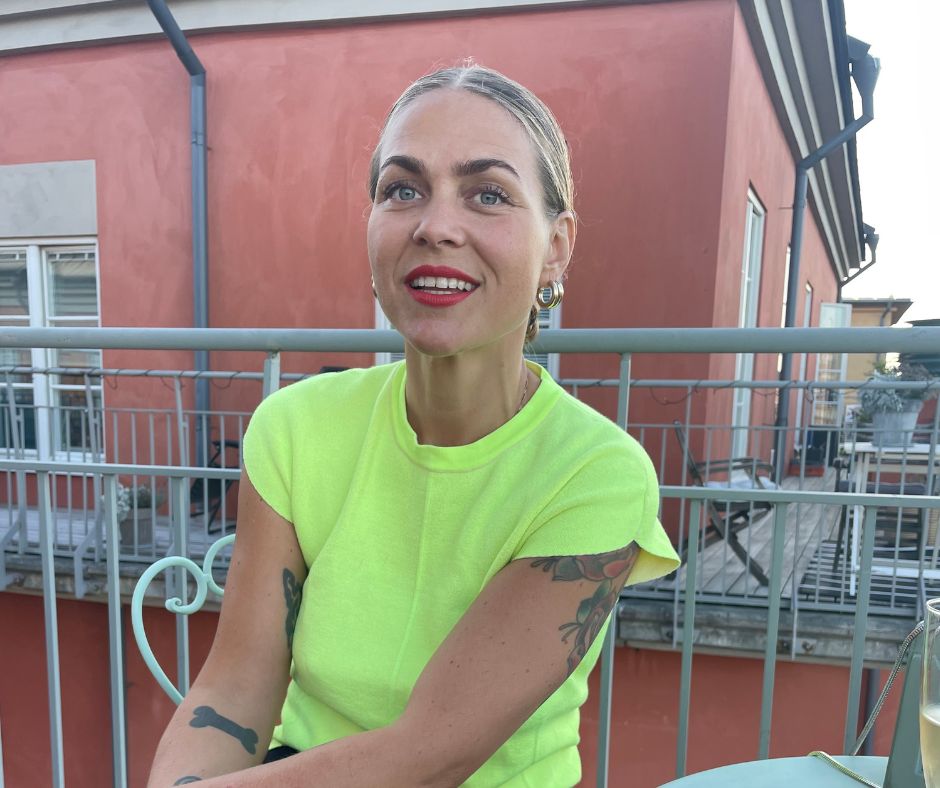 Our team member Tove worked in fashion for many years, previously running a fashion PR agency in London before joining GoClimate. From living and breathing fashion and consumption, to start working to fight climate change – how did that happen?
"I really loved working in fashion and am proud to have been involved in building several fantastic brands internationally. My agency focused on sustainability since the start in 2008 – but back then I basically thought sustainability was more or less equal to using organic cotton in the production, or doing a sustainable capsule collection now and then."
"Over time, I learned more, and was increasingly horrified by how dirty the fashion industry is. As I started to transition to a personal life that did less harm on the planet, there was something about my professional life that didn't sit right with me. While I was spending lots of time and effort in my personal life adopting healthier consumer habits, my job was to drive consumption by getting people to buy as much of our clients' products as possible. It just didn't fit with the way the world looks today, the future I hope for our children, or my personal values. I felt a need to start spending my time solving the problem instead of contributing to it."
Want to buy something? – Sleep on it!
"I still love fashion and occasionally find it hard not to be able to enjoy certain trends in the same way as before. I always try to find specific garments or accessories that I'm after second-hand, but I'm honestly not great at thrifting. So I still buy newly produced garments – but in a completely different way than before. Back then, I could buy something to wear once or twice, or on impulse. These days I only buy things I need or to replace something that is broken beyond repair, and always after considering it carefully. Sleeping on it often removes a large part of the feeling that I 'must' have something – the brain catches up and I often realize that it is not only unnecessary but also very rarely worth using up the planet's resources." 
"I also create a list of things I need at the start of every season or year – it makes it easier not to be tempted to buy something just because I want to, because I have my list of things that I need. Instead, I can spend time finding the item that I really love and that will last, rather than buying what trends and the world around me says I "should" have. Because I buy fewer things, I can spend my money on brands that are doing a good job with their sustainability – and stay away from fast fashion."
"My advice for those who want to enjoy fashion more sustainably, apart from the obvious – buy less, and buy second-hand, is to take the time to find and get to know brands that have a good sustainability policy, both in terms of people and climate. Once you have done your research and have a couple of brands in mind where you both like the design and know that their production is fair to both planet and people, you know where to go when you need to replace an item." 
"And it's important to understand the problems with fast fashion. Once you understand how poorly both the planet and people are treated in the process of producing that piece of clothing you want so badly, the shine quickly fades."
Tove's list for conscious consumption
Sleep on it. It often creates a distance to that "I have to get this"-feeling.
Make a list for each season. Write down what you really need and stick to it, it makes it easier not to be tempted to buy something just because you want to.
Spend time on research. Find a piece that you really want and will last a long time.
Spend money on high quality brands. Check their sustainability policy before making a purchase and stay away from fast fashion.
Mend and alter items that have broken or are no longer the right size. A good tailor can often bring new life to clothes!