Sometimes we depend on external systems to live a friendlier climate life. Some help us make better choices, and others limit our pool of options, like the source of the daily electricity we consume. In some countries, choosing our source of electricity is possible; in others, not at all. Still, we use electricity for almost everything we do. Thus, ensuring that the default source of electricity in countries' power grids is renewables is a critical structural change.
At GoClimate, we are supporting a Gold Standard project in Rajasthan, India, that does just that. This project replaces the use of fossil fuels to provide clean, renewable energy for the Indian grid from its intense, famously strong sun.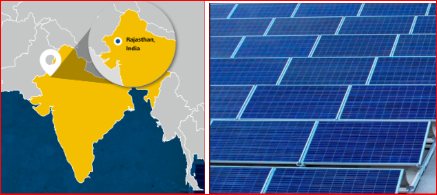 As a result, 779,000 tonnes of CO2 are prevented from going into the atmosphere yearly, equivalent to the total yearly emissions of 34 348 US citizens or 260 534 Vietnamese citizens. At the same time, it has contributed to the following Sustainable Development Goals (SDGs):
The Context
India is the world's third-largest energy-consuming country thanks to rising incomes and improving living standards. Energy use has doubled since 2000. However, 80% of its demand is still being met by coal, oil, and solid biomass. India's government hopes to change this and aims to quadruple renewable electricity capacity by 2030.
The Project
This project is installing a large solar farm to harness the sun's blistering rays and turn them into renewable electricity. By sending the electricity to the regional grid, it displaces fossil fuel-based power and avoids the associated harmful greenhouse gases. Thanks to this project 180,000+ average Indian households can be powered by renewable energy for a year!