If you are a meat eater and you want to become more of a vegetarian (or at least eat more plant stuff and less meat stuff), and you kind of struggle with that because meat tastes good and you're used to eating it, then this guide is for you! A short pragmatic guide for the aspirational vegetarian who still wants to enjoy good food.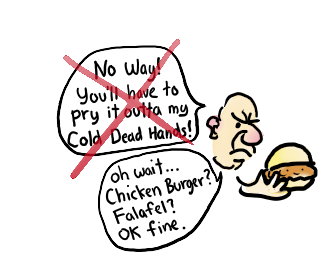 I've been on this journey (and struggling, I admit) for about a year and half. I'm nowhere near full vegetarian, but I've cut down meat consumption by more than half, and will keep trying to reduce it. The nice thing (and a bit of a surprise) is that it doesn't feel like a personal sacrifice at all!
Anyway here are some tips, if you want to join in.
Be clear about the Why
Why do you want to eat less meat? If you're clear about the Why, it will be a lot easier to make the right choices and priorities. Common reasons: climate change, better health, lower cost, not wanting to kill animals, or not liking the taste of meat. You may have several reasons, but what is the main reason?
In my case it's mainly about climate. Climate change sucks, and the meat industry (especially beef) is a major cause of climate change – bigger than the entire transport sector. The average carbon footprint is 3-18 tons per person per year. For the world to stay habitable we need to reduce it to about 2 tons per person. That's a very big change! Reducing or eliminating meat from your diet can reduce your footprint by about 1 ton per year, so it's a good start.
Because climate is my main motivation, my first priority is to reduce beef, second priority is to reduce other meats, and everything else is bonus. No big deal.
You don't have to go all in
Perfect is the enemy of Better Than Before. If you try to go all-in (as in 100% vegetarian right away) you are likely to keep it up for a short time and then regress back to old habits, annoyed at your lack of self-discipline. Just like any overambitious new year resolution. So start with small changes.
You'll regress sometimes, and that's fine. A few weeks ago I had a really nice big juicy steak at a restaurant. Because I eat a lot less beef nowadays, that became a novelty. So I ordered an extra fancy cut and enjoyed it more than usual. If you're going to regress, do it with pride 🙂
Change one habit at a time
Going vegetarian (or slightly vegetarian) actually involves a bunch of different habit changes.
Changing your shopping habit

Learning new cooking skills

Changing your snacking habit

Changing your restaurant habit (both restaurant selection and menu item selection)
Forget trying to change all those things at once! Start small, build up some small victories, celebrate that and then take the next step. And don't beat yourself up too hard if you regress sometimes. Pat yourself on the back for even just trying and not giving up.
Changing your restaurant habit = early win!
However often or seldom you eat a restaurants, that's a (potentially) great place to discover vegetarian food. I guess it varies between countries, but in Sweden vegetarianism (or whatever you call it) is somewhat of a trend, so increasingly often restaurants have great vegetarian & vegan dishes that I would never think to cook for myself.
In the past, when looking at a menu, I would unconsciously ignore any vegetarian alternatives, I would literally tune them out and just look for meat dishes. Silly, I know! Turned out it was quite easy to change that habit. Now I start by looking at vegetarian alternatives and at least consider them first. I don't always pick them, but at least my default has shifted. And the insights from trying these dishes has increased my confidence that, hey, eating less meat isn't a personal sacrifice – quite the opposite – a lot of this stuff is really good!
Another fairly simple habit to change is restaurant selection. If you're going out for lunch or dinner, just look up a vegetarian-themed restaurant once in a while and give it a shot. They, if anyone, know how to make great-tasting vegetarian food which you can enjoy, and also learn from.
Don't obsess over labels and definitions
"Can I eat eggs?" "What about fish" "If I drink milk, am I a vegetarian but not vegan?" "What the heck is a flexitarian?"
The short answer: Who Cares! Call it what you want. For me it's just about eating less meat, especially beef. That's it. Although I draw the line at bacon. No way am I quitting on bacon. Maybe that makes me an aspirational bacontarian 🙂
But OK, it is actually useful to understand the difference between vegetarian and vegan, if you are going to a restaurant. Vegan means no animal-based products at all (so no cream, milk, butter, etc), while Vegetarian is mostly about not eating meat. I don't mind eating vegan food from time to time, but I don't aspire to become a vegan, as that would be a bigger change than I need. I mostly just want to shrink my carbon footprint, so that means less meat – especially beef. Everything else is bonus.
Again, be clear about your Why. It may be different than mine.
Don't bully people, and don't let people bully you
Most people (in my experience) are nice. BUT….
You may bump into rabid meat-lovers that get provoked by your ambition to eat less meat, perhaps because they feel accused. Never mind. Do your thing, let them do their thing. Don't bully them, and don't let them bully you.
You may bump into rabid vegans who complain that you still haven't gone all-in. Ignore them and celebrate whatever small steps you've managed to take.
Remember, it's your own race. You are doing the right thing for yourself and for the climate. You can inspire others by your actions (or stuff like this article….), but don't try to push them.
Start in the store, not the kitchen
Eating habits are very hard to change. When you are hungry you are hungry, and if your fridge is full of meaty stuff then, yes, you will eat it. Plus, you don't want it to go stale.
So shift your focus to your buying habit instead. We tend to be less impulse-driven in the store than in the kitchen (OK just slightly less). Your eating habit will be driven by your shopping habit, so start there.
For example: We eat nachos about once per week in my house. We love it!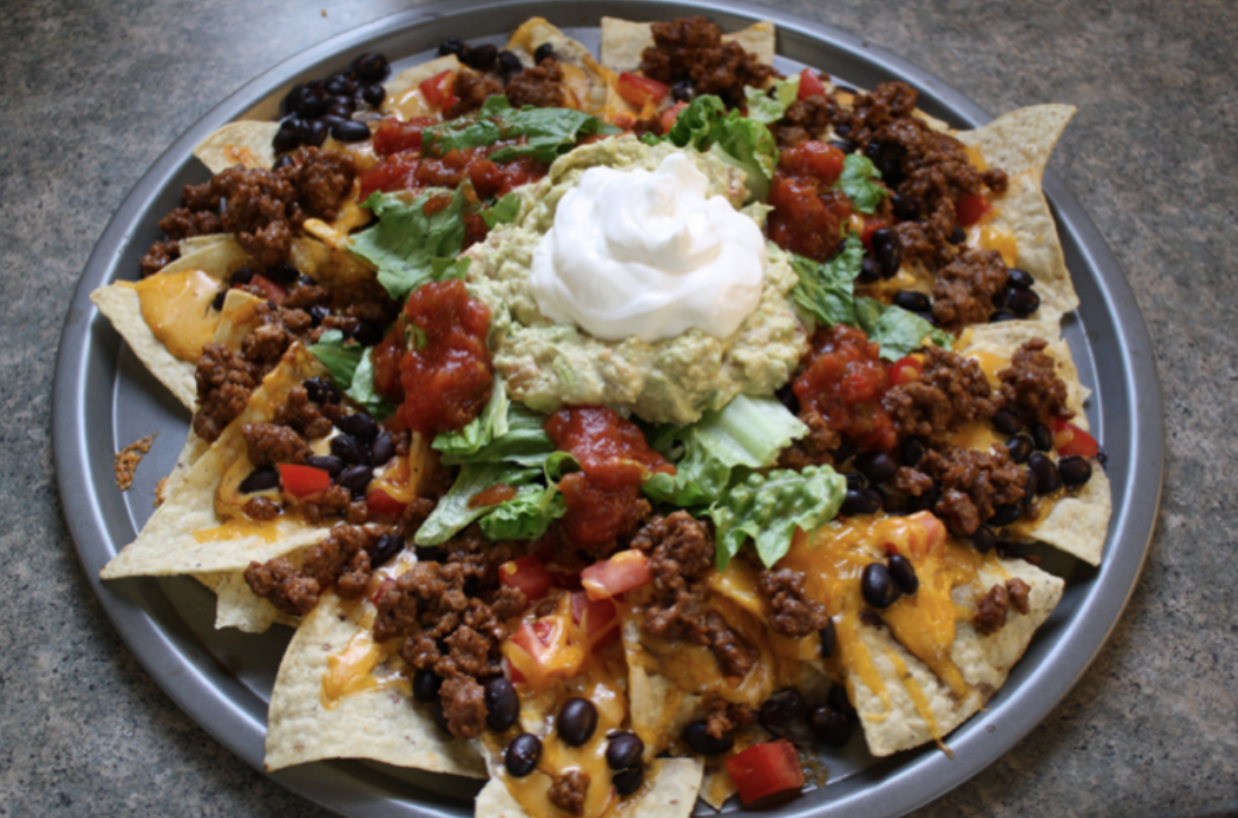 So I started experimenting when shopping – what if I buy "blandfärs" (pork+beef) instead of just ground beef? Pork carries about a 5-10x lower climate footprint than beef, so it's a good start! But will it taste worse? Will the kids complain?
Turned out: no complaints! So next I changed to just pork. Finally I took a radical step and started buying vegeterian alternatives with the same "form factor" as minced beef – like for example Quorn. Again, no complaints!
("What the heck is Quorn", you ask? Well, so did I, and after reading the wikipedia entry I admit I still don't know what the heck Quorn is, but I know it's not meat and my Nachos haven't suffered one bit from the switch, so I'm all for it!)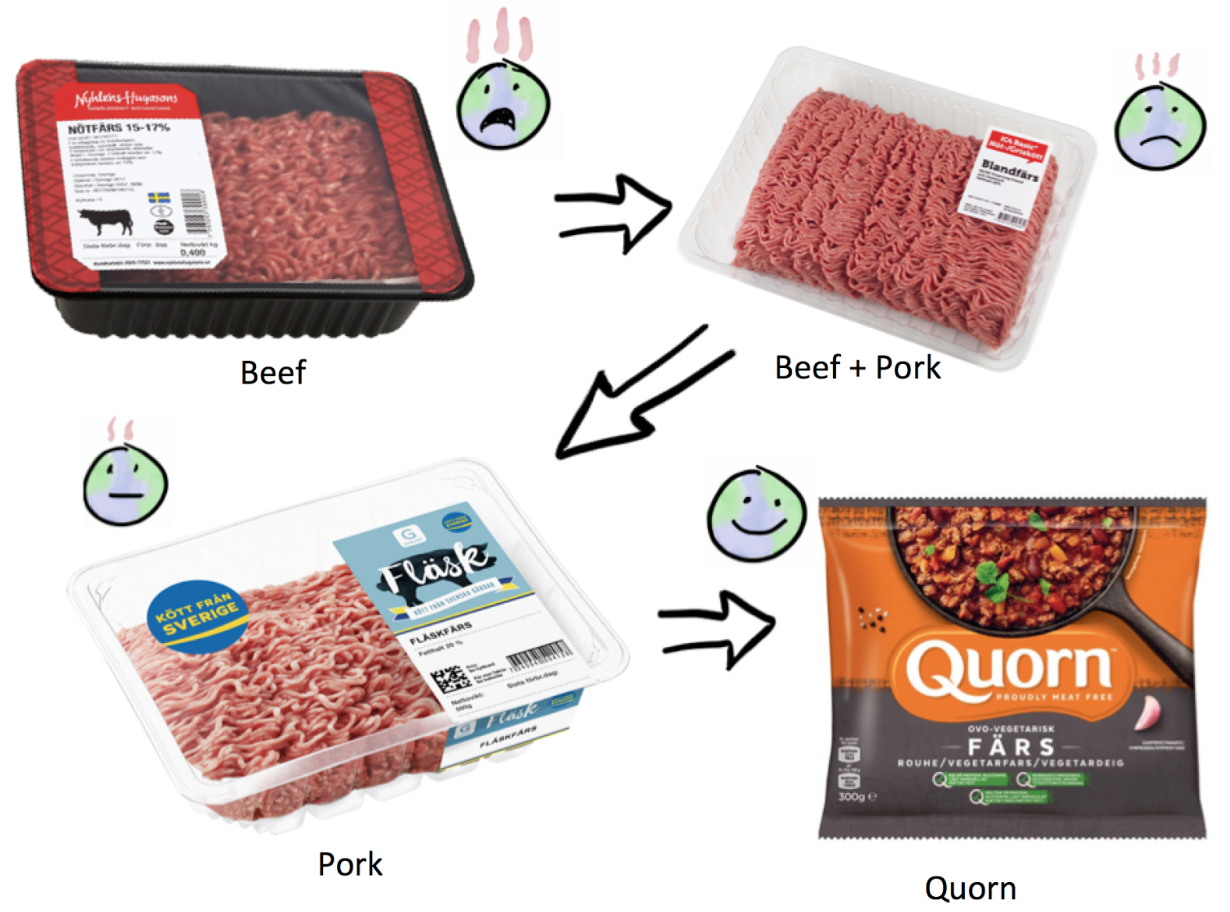 Meat-like veggie food is a perfectly valid stepping stone
Real vegetarians sometimes laugh when people like me look for meat substitutes. They say "Let go of the it-must-look-like-meat hangup! There's plenty of great vegetarian food that stands on it's own and doesn't try to look like meat!" And they are right! By limiting ourselves to meat-like substitutes, our options are much fewer, so we are less likely to find the really awesome food. But they forget how hard it is to change old habits, like the "I'm hungry, I'll go grab a burger" impulse. When that urge sets in, my feet (and nose) will pull me toward a burger joint despite the perfectly rational complaints from the conscious part of my brain. The elephant beats the rider any day.
But once I'm in the burger joint, if I see something on the menu that looks like a burger but happens to be non-meat, I'll be much more inclined to order that than some other weird veggie thing that I don't recognize at all. Gradually, I'll learn that "hey these plant-based alternatives weren't so bad after all", and as a result I'll be more inclined to take bigger steps and try food that doesn't look like meat at all. And probably discover, like my friends have been trying to point out, that this opens up a much bigger range of great food!
At home we did a fun little side-by-side test with burgers. We grilled four types of burgers: normal beef burger, chicken burger, halloumi burger, and a veggieburger. We all tasted and rated the burgers. The chicken burger won for the kids, and the halloumi burger for me. Now the kids are more likely to pick a chicken burger when it's available on a menu, which is definitely a step in the right direction. If nothing else, they are more conscious in their choices now.
Hang out with (non-dogmatic) vegetarian or vegan friends
They've got it figured out (or they wouldn't survive)! So eat and cook with them and learn how delicious vegetarian food can be! Or maybe their food is horrible, in which case you just invite yourself to another friend until you find someone who actually knows how to make good vegetarian food to your taste 🙂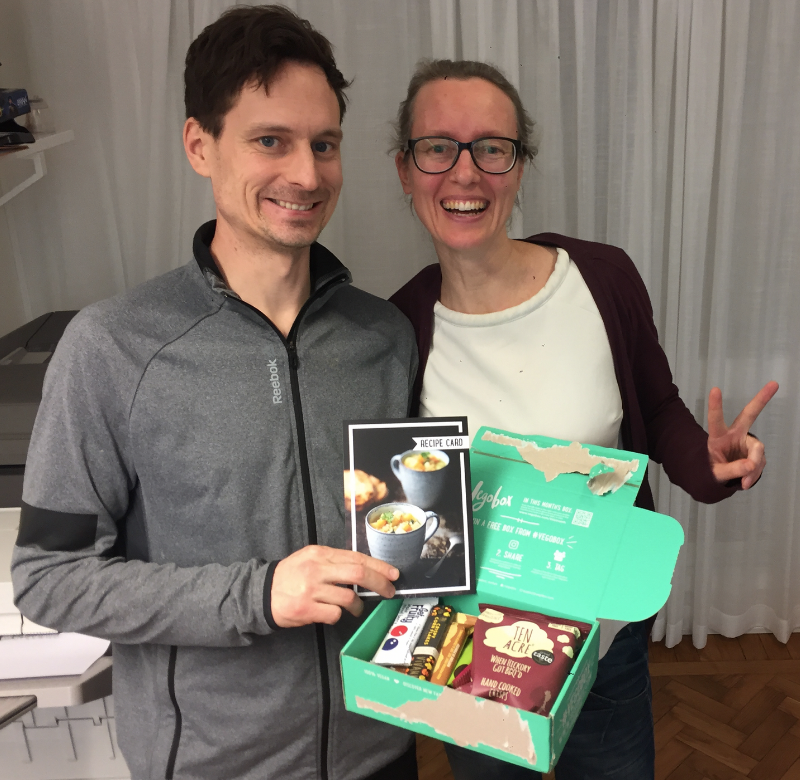 OK that's all I got for now. Good luck! And if you're also on this journey, please share your experiences below! Keep it pragmatic though (I'm allergic to dogmatic stuff, doctor's orders)…
PS – don't tease me too hard if you catch me with a hot dog or something. I might not manage 100% vegetarianism – just trying to see how close I can get 🙂
/Henrik