As I write this I'm sitting on a train headed back to Sweden, pondering the result of a year's experimentation with travelling by train instead of flying. Is this an effective way to reduce my carbon footprint? The jury is in! Read on.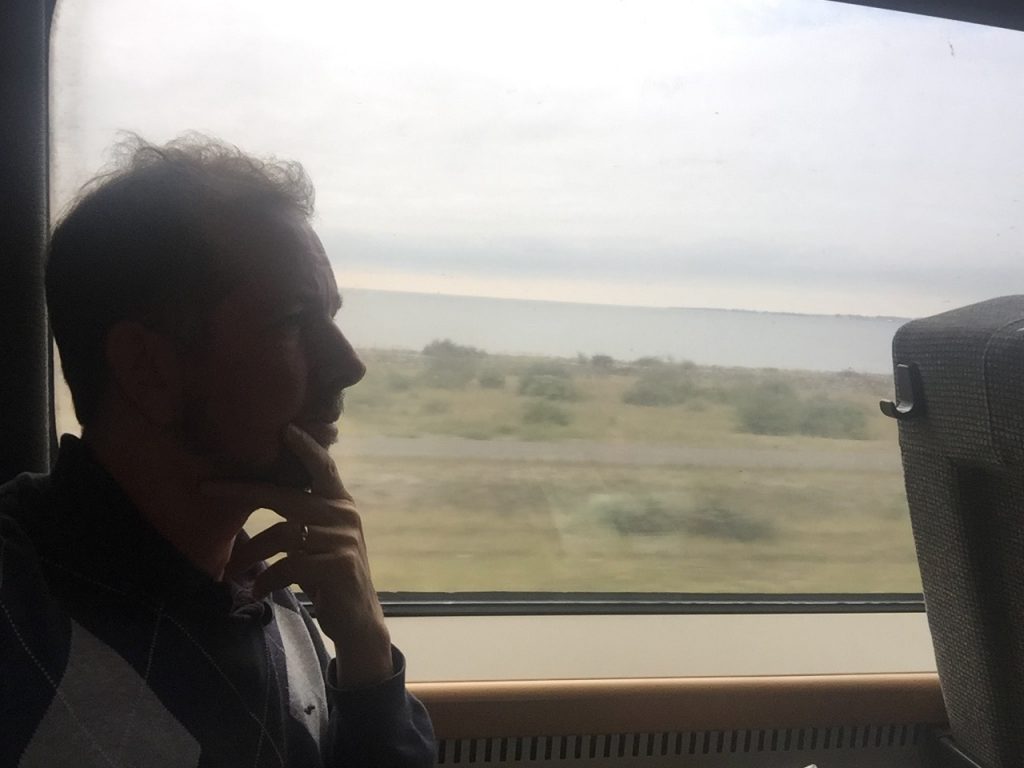 One common rallying cry among climate advocates is to fly less (or ideally not at all). I consider myself a climate advocate (here's my entry ticket), but I'm also a pragmatist. I've worked enough with behavioural change to know that it's unrealistic to expect many people to change their habits unless there is a convenient and compelling alternative. For example, Spotify killed music pirating, not by attacking pirate sites, but by providing a better and more convenient alternative.
So what are the alternatives to flying, if you want to get from A to B?
Option A: Don't go.

Stay at A. This option won't fly (pun intended) with most people. There's a reason why they want to go from A to B, and only a small number of people will be willing to sacrifice that (kudos to those people though!).

Option B: Walk or bicycle.

Not feasible. A distance that is long enough to take a flight is usually waaay too long for a walk or bicycle ride, unless you are an enthusiast with LOTS of time on your hands.

Option C: Car.

This makes sense only if you travel in a group, or if you drive an electric car. If you drive alone in a fuel car, the climate impact is about the same as flying, just takes longer and is more dangerous and clogs up the road.

Option D: Bus. I haven't found any long-distance bus options  to the places I go. Might be more feasible in other countries than mine.
Option E: Train.

Is train a feasible alternative?

Definitely climate friendly

, but what about price, convenience, reliability, and time? Read on!
I live in Stockholm. The past 3 years I've been travelling on a regular basis to Billund in Denmark, because of a long-term engagement with LEGO. I've also travelled to Paris a few times to do conference keynotes, and Gothenburg to work with Trine. The past year I've replaced almost all flying with train – I've spent about 150 hours on trains in Europe (in fact, I'm sitting in one right now as I write).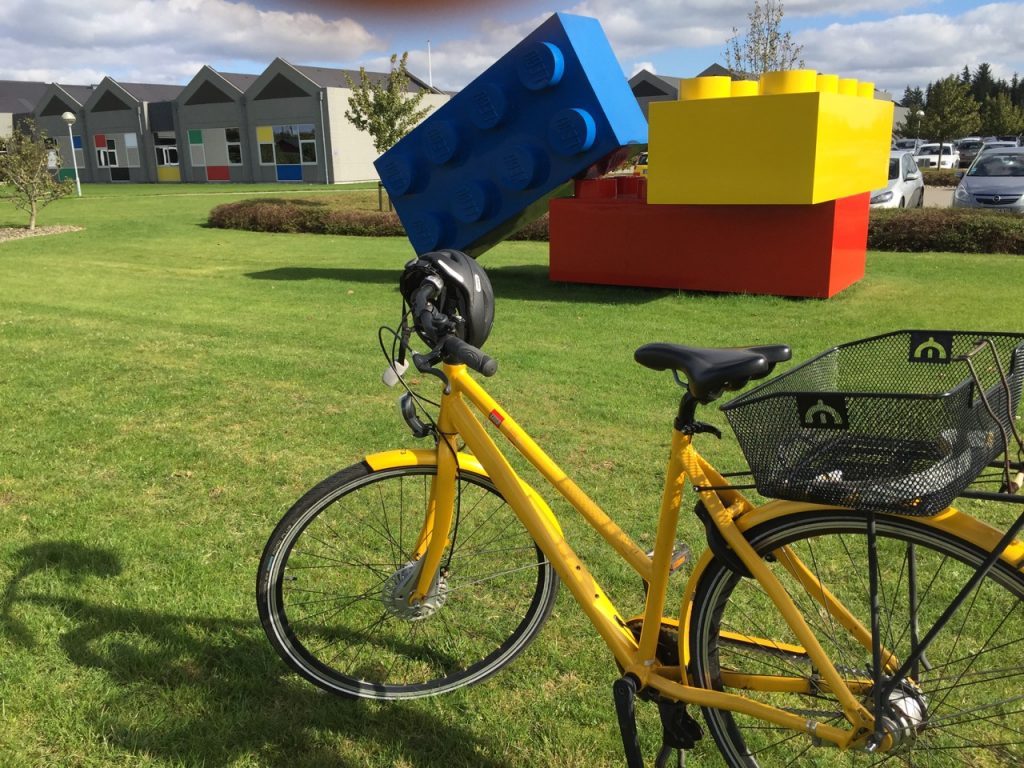 So is train a feasible alternative to flying?
My conclusion so far: Not really. Darn.
My hypothesis was that train travel would take longer than flying (obviously), would cost the same or less, be more convenient and comfortable, and significantly reduce my climate footprint.
I was right about travel time and climate impact, but wrong about price and convenience. And considering other ways to make a climate impact, long-distance train travel is just a bad deal in comparison (scroll down for details).
Now don't get me wrong. Long-distance train travel is a fun exciting adventure, it is a much cooler and more fun way of travelling than flying, especially with kids!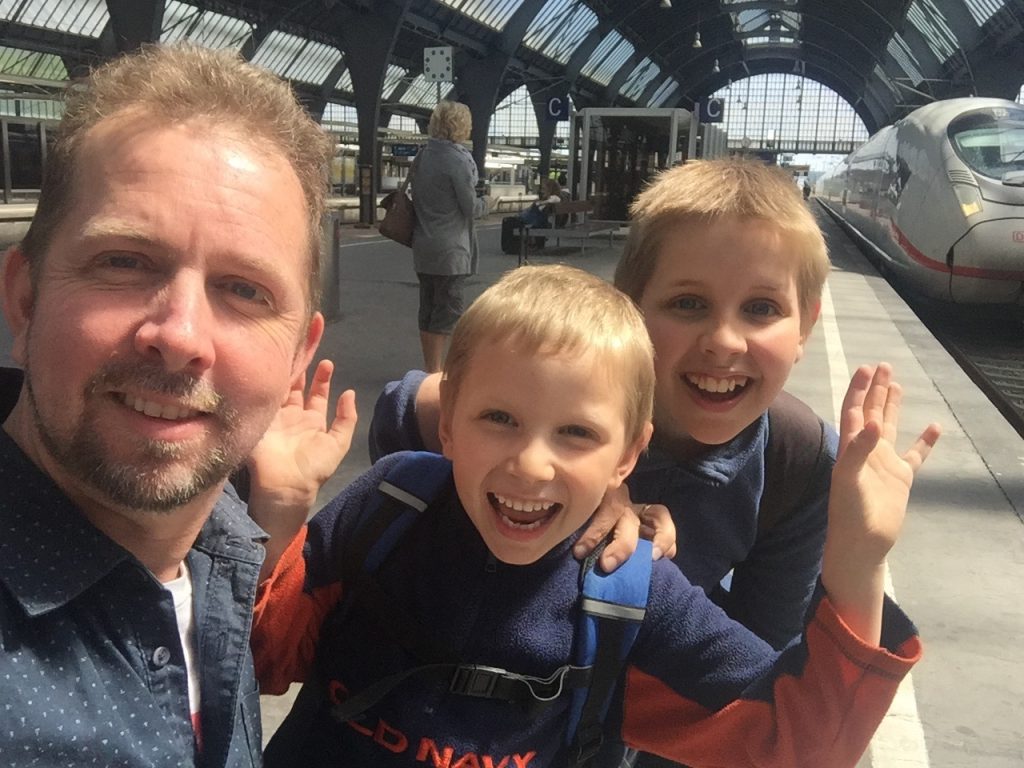 But now I'm talking about how feasible it is for regular travel, once the novelty has worn off.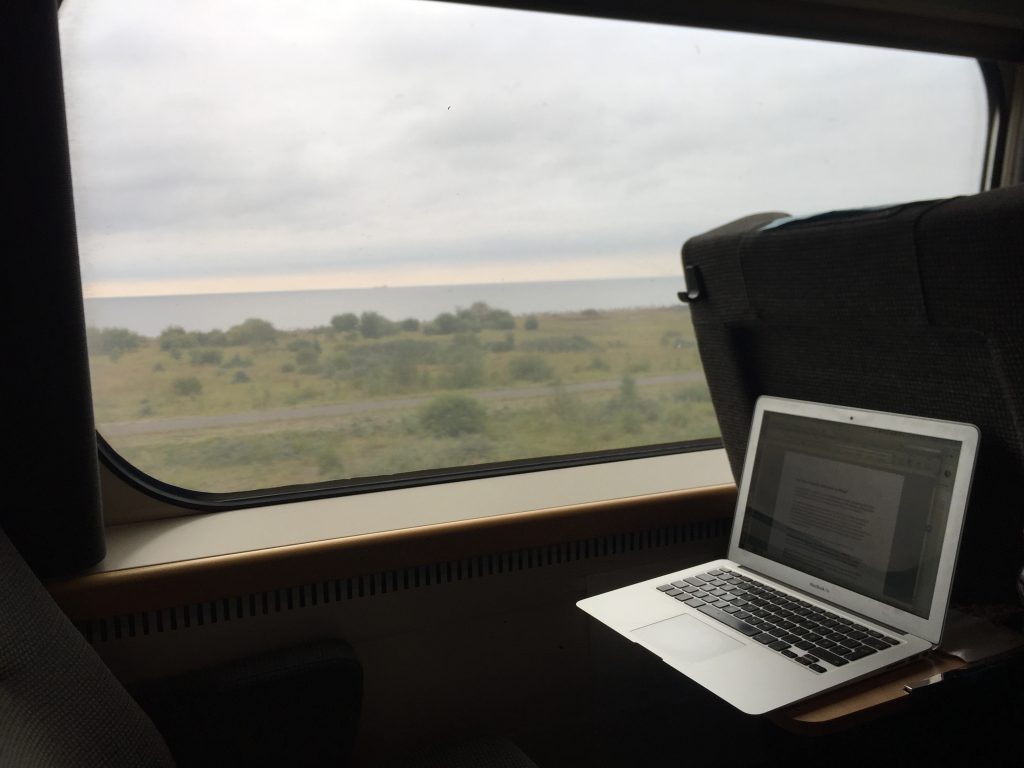 The only time train makes sense is if you happen to be travelling between two cities that are within 600 km and happen to have a high-speed direct rail connection (in my case Stockholm – Gothenburg). In those cases, train is great! But other than that, not so great.
I'm sad about this conclusion, because I really was hoping train would win out, because it seemed like the only realistic contender against flying.
This is obviously not a conclusive study, just 3 routes. But it's a pretty representative sample set – 3 pretty different types of trips that I've done multiple times. I'm pretty sure trying more routes won't change my mind on this.
OK let's look at the data:
Example 1: Stockholm – Paris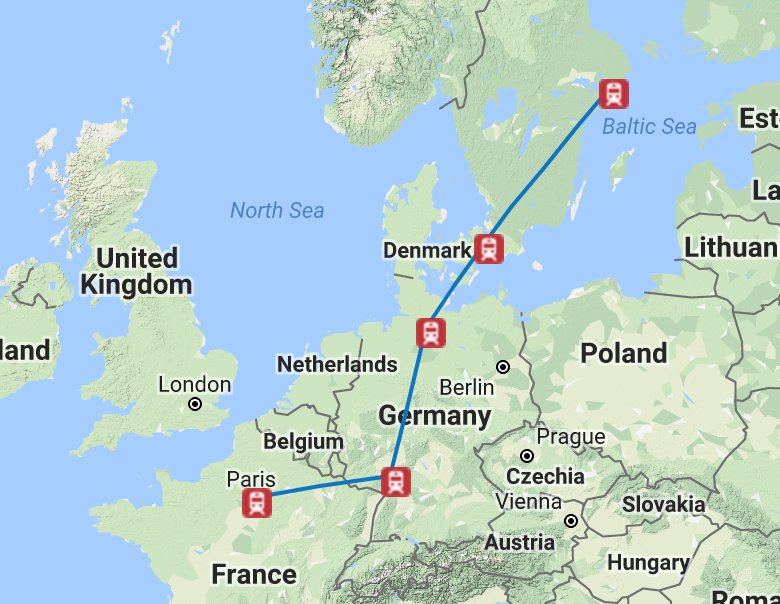 Train, one way
Plane, one way
Travel time

24 hours, 3 changes

4 hours, no changes (includes airport time)

Price

€280

€130

Climate footprint

30 kg CO

2

eq

750 kg CO

2

eq

Reliability

Low (train delays, missed connections, etc)

High
The prices are just a typical example, the exact prices vary A LOT for both train and plane. But in most cases flying is a lot cheaper.
Sources:
So let's look at the cost/benefit comparison of train vs plane in this case:
Cost:

€150 higher cost, 20 hours longer time, higher likelihood of delays and hassle.

Benefit:

720kg reduction of climate footprint

Climate footprint reduction price:  

€208 per ton
Train travel is more comfortable, but if we factor in the 3 changes and the risk of delays and missed connections, the comfort isn't that great after all. Plus for long train rides you're gonna sleep on the train, and good routes with sleeper coaches are hard to find (I didn't manage even once). I'm lucky though, I sleep pretty OK sitting in a regular train chair. But I don't expect that to be true for most people.
But more importantly – the price tag of €208 per ton CO2 reduction is insane! There's MUCH better ways to spend that money for the climate, scroll to the end for a graph.
Example 2: Stockholm – Billund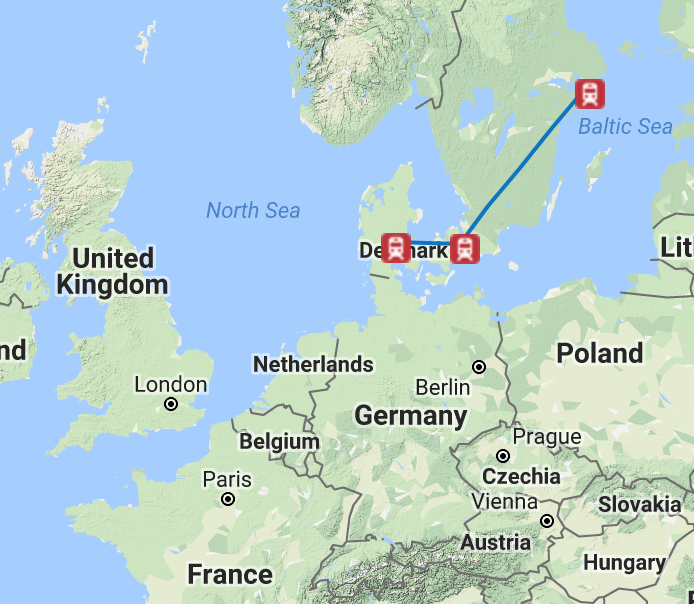 Train (one way)
Plane (one way)
Travel time

8 hours, 2 changes (bus the last leg)

2.5 hours, no changes (includes airport time)

Price

€120

€60

Climate footprint

10 kg CO

2

eq

380 kg CO

2

eq

Reliability

Medium

High
Cost/benefit comparison
Cost:

€60 higher cost, 5.5 hours longer time, slightly higher likelihood of delays and hassle.

Benefit:

370kg reduction of climate footprint

Climate footprint reduction price:  

€162 per ton
Not quite as bad as Stockholm – Paris. But still a pretty bad deal. Twice as expensive, 3 times longer travel time, and again, a ridiculously high price tag for the rather small CO2 reduction.
The time itself is not a problem though. I can make good use of those 8 hours, sitting in a comfortable seat with a decent internet connection (in fact, I'm being really productive right now, sitting in a train writing this article).
Example 3: Stockholm – Gothenburg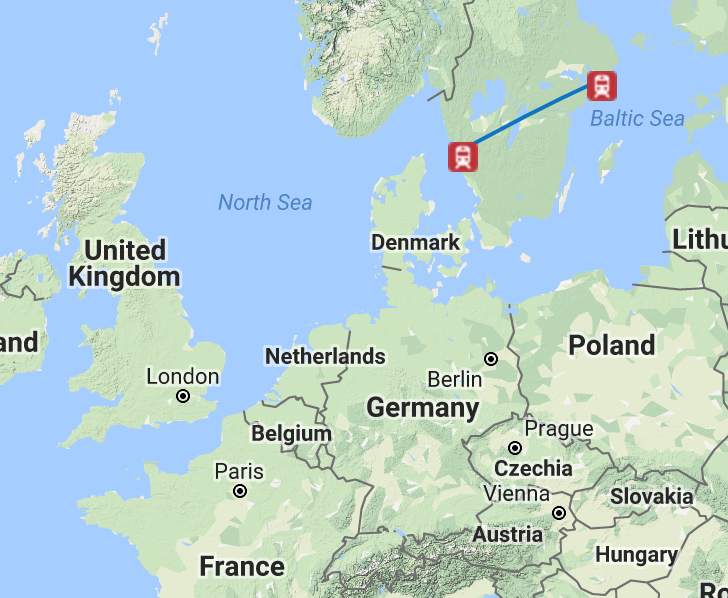 Train (one way)
Plane (one way)
Travel time

3.5 hours

2 hours (includes airport time)

Price

€24

€24

Climate footprint

10 kg CO

2

eq

250 kg CO

2

eq

Reliability

Medium

High
Cost/benefit comparison:
Cost:

Same cost (roughly), 1.5 hours longer time

Benefit:

240kg reduction of climate footprint. More comfortable journey.

Climate footprint reduction price:

0!
This is where train shines. Same price as flying. Slightly longer trip, but MUCH more comfortable and less hassle (more leg room, internet connection all the way, no security gates, etc). I've done the trip a few times with no hassle, but some friends report that it's actually quite unreliable and they often run into delays. So I guess I've just been lucky so far. 
Conclusion – long-distance train sucks, but it shouldn't!
I hate to say it, but from now on when I travel outside Sweden I'm back to flying, and offsetting the climate impact.
I know some climate advocates don't believe in carbon offsets, but the math is pretty clear. We've spent lots of time exploring this at GoClimate.org, and concluded that 1 ton of effective, certified carbon offset costs about €4 (for example, we recently purchased 1000 tons for €2622, a hydro project in Vietnam). Compare that with €160-200 for 1 ton of carbon reduction via long-distance train travel. That's 40-50x more expensive! And even if our offset pricing is wrong by a factor 10, it's still 4-5x more effective than long-distance train!
Here's a graph comparing the price of carbon offset/reduction using various services.  Long-distance train is clearly the worst.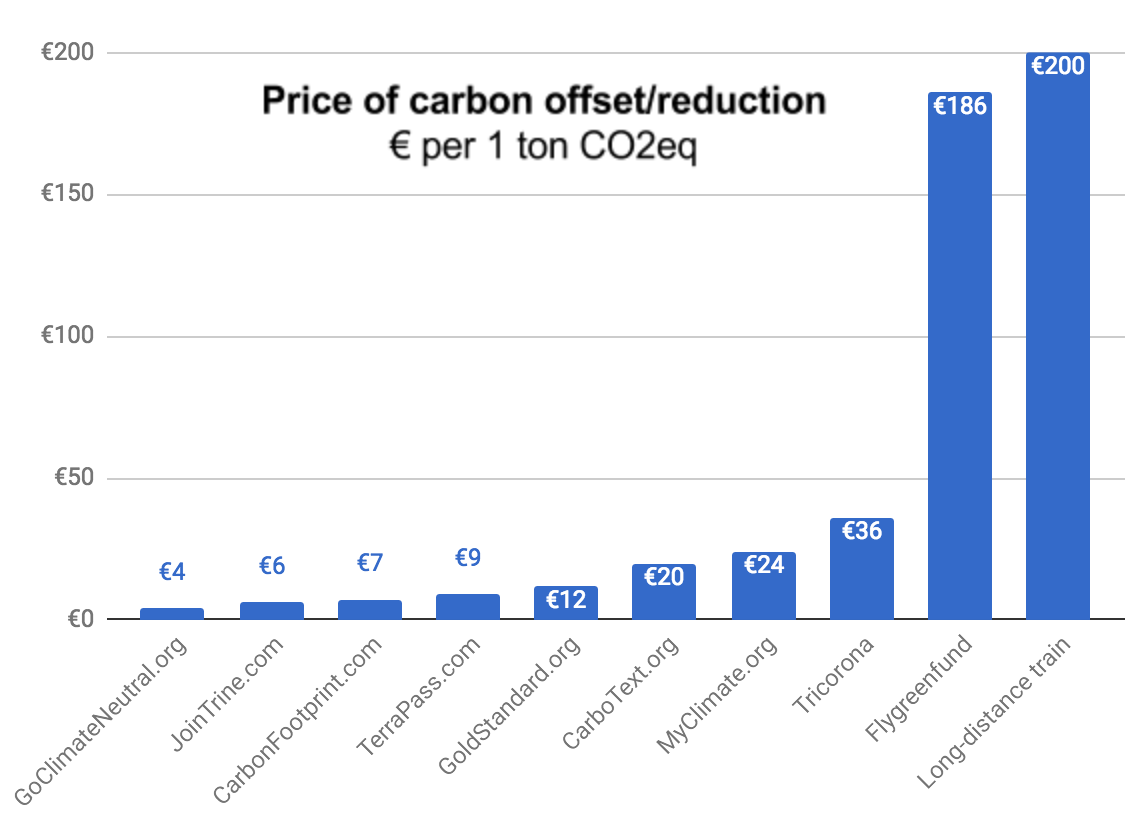 (note that the prices for JoinTrine.com and GoldStandard.org vary from project to project, I picked their best projects for this graph)
So if you really need to travel longer than 600 km, then flight + offset is the least crappy way to do it from a climate perspective, at least as long as train travel is twice as expensive as flying.
Let's take the Stockholm-Paris example for comparison.
Option 1: travel by train and pay €280.
Option 2: travel by plane and pay €130, plus an additional €4 to offset the carbon footprint (= pay for corresponding carbon reduction somewhere else). Just a 3% increase in price! And hey, why not add another €10 and make a positive impact on the climate instead of just neutral! Still way cheaper than train.
From a systemic perspective though, this is still broken! It would be MUCH better if people were incentivized to not pollute the climate in the first place (= take train instead of plane), instead of polluting the climate and paying to offset it somewhere else.
So politicians, engineers, policymakers, listen up!
Make long-distance train cheaper than flying!

Either by subsidizing train more, or by taxing flights more. It makes

no sense

that people should pay extra when doing the right thing for the climate.

Invest heavily in improving long-distance train infrastructure.

Train is great, when it works! But the reliability of cross-Europe train travel is too low. Last minute changes and delays on a multi-leg journey means you need to have a ridiculous amount of safety margin when making, say, a business trip.

Support research on electric planes.

Fully-electric passenger flight is a huge technical challenge, but plenty of efforts are ongoing and the more support they get, the better. Check out this on

hybrid

and

electric

planes.

Support efforts that lower the climate footprint of flying.

For example

aviation biofuel

. Because we're going to be stuck with flying for a long time, so let's at least reduce the impact as much as possible.
Fortunately, aviation accounts for only about 2% of global carbon emissions (source). So even if everyone stops flying now, that will only slow down global warming by 2%. Cars and energy production (coal & oil power plants) account for almost half of global carbon emissions, so that's where the big change needs to happen. And it is happening! We're currently seeing an exponential growth in affordable solar panels and electric cars.
PS – if you (despite this article) are gonna do long-distance train travel in Europe, I can strongly recommend loco2.com for finding the routes.
Oh, and if you are a frequent long-distance train traveller and you have another view on this, maybe you live in an area where long-distance train travel is perfectly feasible, then please add a comment. Show us the numbers. I'd love to be wrong about this whole thing.