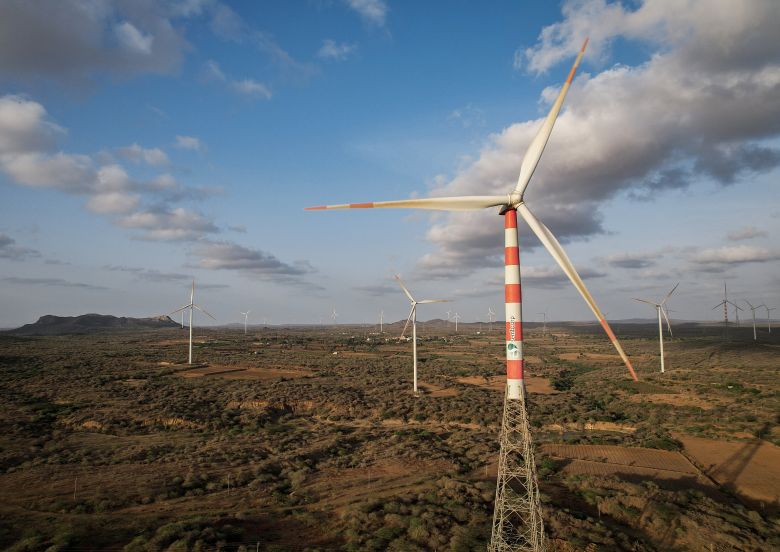 The GoClimate community is now supporting the Kutch Wind Power Project in India. The project is Gold Standard-certified and GoClimates contribution amounts to 20 000 tonnes of avoided CO2e-emissions.
Introduction
India has been experiencing a rapid growth in energy demand, resulting in increased greenhouse gas emissions and dependence on fossil fuels. In order to diversify the energy mix and promote sustainable development, heavy investments in renewable energy sources, such as wind power, is needed. One example of this is the Kutch Wind Power Project, which has been making significant contributions to the nation's clean energy goals and local communities.
Kutch Wind Power Project: An Overview
Located in the Kutch region of Gujarat, the Kutch Wind Power Project consists of 150 wind turbines, each with a capacity of 2 MW. With a total installed capacity of 300 MW, the project generates approximately 700,000 MWh of clean energy annually.
Climate Benefits
The Kutch Wind Power Project's positive impact on the environment is big. By generating clean, renewable energy, the project helps in reducing India's reliance on fossil fuels and curbing greenhouse gas emissions. It is estimated that the project prevents the release of over 550,000 metric tons of CO2 equivalents per year, which is equivalent to taking more than 117,000 cars off the road annually.
Socioeconomic Benefits
Beyond its environmental benefits, the Kutch Wind Power Project also provides various socioeconomic advantages to the local communities. 73 employment opportunities have been created for local workers, both during the construction and operational phases of the wind farm. Moreover, it has helped enhance the skill sets of the local workforce through technical training and capacity building programs.
The project has also made significant contributions to the development of local infrastructure. It has helped improve the accessibility of remote areas by constructing and maintaining roads. Additionally, the project has facilitated the installation of street lighting, improving safety and security in nearby villages.
Furthermore, the project supports several community development initiatives, such as providing clean drinking water, promoting education, and improving healthcare facilities. By investing in these essential services, the Kutch Wind Power Project contributes to the overall well-being and quality of life for the local population.
Conclusion
The Kutch Wind Power Project stands as a testament to the transition to a sustainable energy future. By harnessing the power of wind, the project not only contributes to climate change mitigation efforts but also fosters socioeconomic development in the region. As India continues to invest in renewable energy, projects like the Kutch Wind Power Project serve as an inspiration for other countries to follow suit in the global pursuit of a greener, more sustainable future.